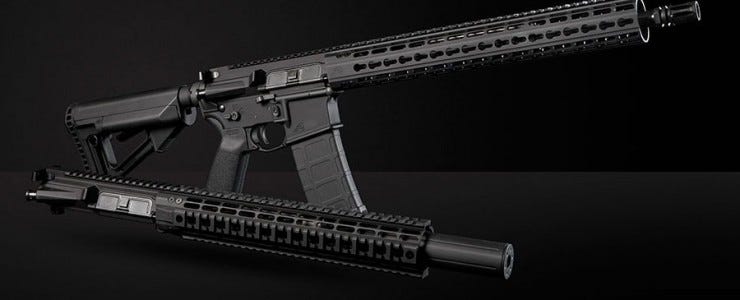 Enhanced really means enhanced.
The AR15 weapon system is an ever-evolving and modular system. That weapon system has now been enhanced by Aero Precision into the new M4E1 and M5E1 platforms. The Enhanced upper receivers are precision-machined to our specifications and features M4 feed ramps and handguard mounting platform. The rail mounting surface and ba rrel nut area provide a much stiffer system than a standard receiver, giving you more accuracy out of your rifle. Lightweight by design, stronger through superior engineering, the Enhanced Series delivers monolithic accuracy in a lightweight package.
Lighter Design, Stronger Product
The Enhanced Series begins with our all new state-of-the-art forged upper receiver. The M4E1 (5.56) and M5E1 (.308) upper receivers are a one-piece design combining the rail's mounting surface with the upper itself. By machining the rail's mounting surface into the upper itself we have condensed the parts needed to mount a free-floated rail to a mere 8 screws. Since it is of the same forging as the upper not only is it a stronger system, but we are able to make even more lightening cuts to save weight and allow for more efficient cooling.

The Enhanced Rail
Choose a rail length and design that matches your shooting style. With how quickly rails can be changed out, we won't blame you if you get two. Choose from a traditional Quad Rail, Keymod Rail, or the new M-LOK from Magpul. Available in lengths 7" to 15".
Ease of Rail and Barrel Installation
Simply insert your barrel assembly into an Enhanced upper, tighten it using the provided barrel nut and wrench, slide your rail on and tighten the rail screws. Within minutes you have a modular, free-floated rail.
Near Seamless Rail & Upper Alignment
The E1 design removes the human element margin of error when it comes to not only installation, but also correct alignment and removing any gap between the upper and the rail.
Suppressor Ready
The Enhanced Series Rails have a 1.8" inside diameter that will accommodate most muzzle devices and 1.5" suppressors. A perfect set up for your short barreled suppressed package.