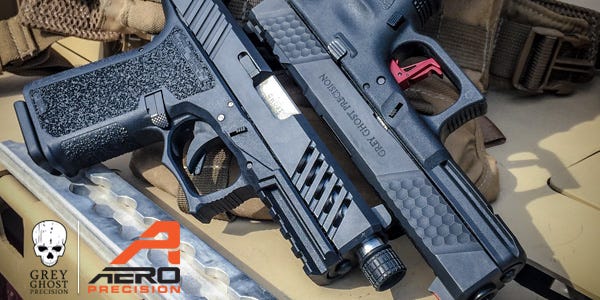 Grey Ghost Precision Complete GLOCK® Slides Now Available!
We are pleased to announce that Aero Precision has formed a strategic partnership with Grey Ghost Precision, a leading manufacturer of accurate, reliable, and attainable weapon systems, to engineer and manufacture a growing line of Glock Slides and pistol components. The intent of this product line is to offer the highest quality, drop in ready slides that are both affordable and attainable. We have paired Grey Ghost Precision's design and engineering expertise with Aero Precision's unmatched manufacturing capabilities and quality control to provide a game changing offering in Glock aftermarket parts.
Complete Slide Details
The Grey Ghost Precision Glock® slides are the ideal upgrade for your G17 or G19 sidearm. Enhance your stock pistol, or add it to an 80% build for increased accuracy and reliability. These slides are manufactured from 17-4 billet stainless steel to have tighter tolerances than a factory slide, providing increased accuracy and reliability you can count on.
Complete slides are ready to function out of the box. Available for G17 Gen3, G17 Gen4, G19 Gen3 and G19 Gen4, they feature a match grade barrel with threaded and non-threaded options and a RMR Cut with a custom G10 RMR Plate (sights not included).
Select from 2 distinct designs, V1 and V2. The GGP V1 Slide features a ported design with angled lightening cuts for better balance at the muzzle. The GGP V2 slide features a non-ported design with front and rear 'Geoscales' for positive grip texture. Both designs are custom engineered to provide reduced weight, better balance, and improved grip and friction when in mud, water and other adverse conditions.
About Grey Ghost Precision
Grey Ghost Precision produces weapon systems that are accurate, reliable, and attainable while ensuring that these platforms are ready for combat and will stand the rigors of hard use and perform with devastating results. The GGP team collectively has an extensive background in the military and in manufacturing. Rifle and pistol design specifications are directly influenced by a network of industry and shooting sports experts.
When customers include family and friends that use these rifles, pistols and accessories to protect themselves in dangerous environments, you are very serious about their safety and survival. GGP has zeroed in on quality and reliability to ensure that these platforms are ready for combat and will stand the rigors of hard use and perform with devastating results.